tacuma811
and
paranoid_fridge
!
First stop! Yogyakarta Palace, or keraton as we call them. Not many pictures because it's like what I have at home anyway :P
This is apparently where the Sultan lives. I guess he was out that day because he didn't come out to greet us XD
It was continued by unsuccessful attempt to drown me in the hotel pool. No picture obviously because they have to remove the evidence. Second day.
Mount Doom! That's the path for the lava when it erupts and it's huge.
Mini museum of the massive eruption a few years back. There's apparently a bigger one but anyway. It's called Museum Sisa Hartaku which literally means "what remains of my possessions". Lots of gruesome pictures and melted objects, as well as skeletons of cows. There's also a clock that stopped at the exact moment the mountain erupted. Fascinating but scary.
More Merapi. It's on top of a bunker where two people died while hiding from the eruption. We're allowed to enter the bunker, but no thanks. Lovely view, sad story.
Next! Borobudur! What is there to tell? It's a massive Buddhist ancient temple built by a Hindu king for his Buddhist wife. So if someone proposes to you, ask him to build a massive structure for you first.
Some statues and reliefs. There's supposed to be some stories there but I can't remember what. According to my mom, the lowest level is supposed to show evil and the top level shows enlightenment.
The top level. I couldn't find a spot without people :(
Nice view from the top. This king was good with location.
That night we went to Prambanan. This one's a Hindu temple. According to legend, it's built by a prince to win a princess. The princess wanted him to build 1000 statues in one day and it should be done before sunrise. Unfortunately, he managed to do that and the princess freaked out. So before he managed to finish the last statue, she tricked him into thinking that the sun had risen. He found out and understandably got angry, so he cursed her to turn into a statue. She's supposed to be the statue in the biggest temple. According to local myth, if you go there with your bf/gf, you will break up. No word of married couple, though :P
Anyway, Ramayana ballet!
I can't remember who these guys were supposed to be. Sita's suitors?
Rama, Sita, and the Golden Deer. Are we doing that Ramayana!AU, guys? Idk how to work that into my otp but it's an amusing idea XDD
Rama and Marica taking riding a man to a whole different level.
Hanoman: Calm down girls, Hanoman is here!
Girls: *screams internally*
Baddie dies! Actually no. In this version, he's immortal and was trapped between two mountains, Merapi and Merbabu. Merapi's eruptions are supposed to be him getting angry. I would be angry enough to erupt a mountain if I don't WiFi for millenniums.
Next day, we're off to Komodo!
First day didn't look so promising. Dark clouds (and I got a tiny bit seasick tbh). But the sky was brilliantly clear that night and there are more stars that I remember ever seeing in my life. Also those mysterious green lights in the water. Does kraken glow in the dark?
Our temporary home. Nice, huh?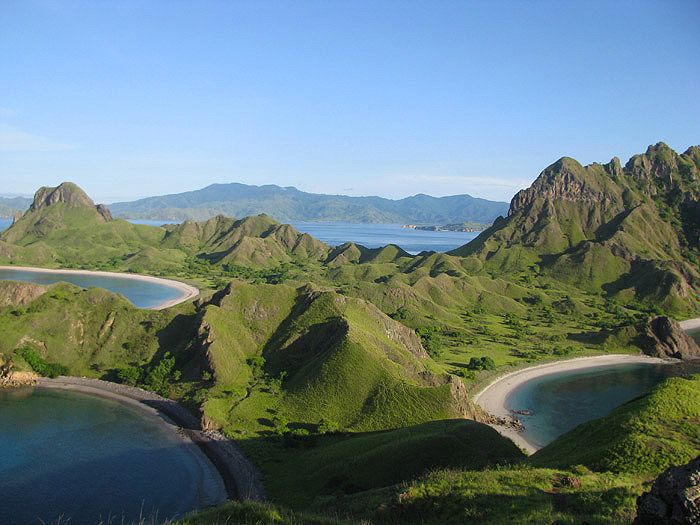 The next day, after a difficult climb, we see the famous three-color beaches. From bottom left to right: Black beach, Pink beack, and White beach in Padar Island.
Pink and Black beaches. The pink one actually looks pink when you look really closely. From the distance it looks white.
White beach where we spent the night (on the boat, of course).
This is one of the hills at dawn.
And the same hill at 7-8, after the hike. How about that for before-after pictures?
Snorkeling at Pink beach! That blond hair seems familiar. I wonder who it was :P
Guess where we were! We came at around their nap time, I guess.
Oh, dear this one. There's actually a blind komodo next to it but it's under a house so you can't see it. When paranoidfridge and I tried to take picture with this one, that blind one kept moving 0__0 I need those pictures because I want to title them The Looks of Fear.
View from Frigate Hill. We saw a baby komodo there, too, wisely running away from its cannibalistic relatives.
Those two there were hissing at each other. I wanted to see a komodo fight but the smaller one backed away. So, no komodo wrestling for us that day.
This may be the biggest one. Our guide said there's one about 3 meters long. Photogenic bastard.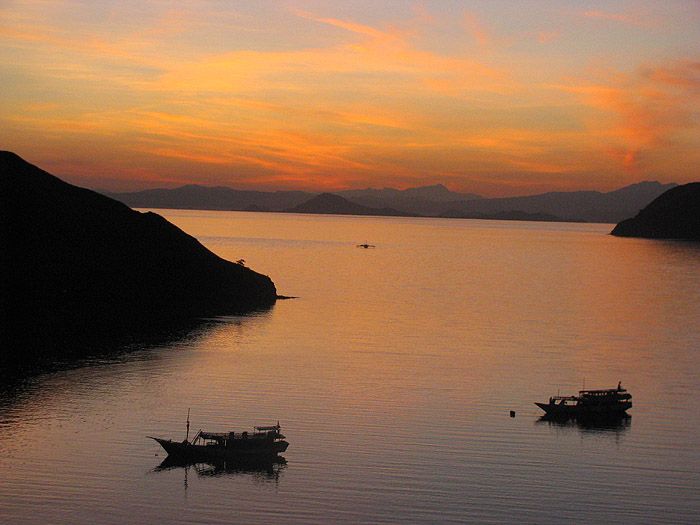 Waiting for sunrise in... somewhere. I had lost track of our location.
Fisherman boat.
The big red ball of the sky has finally risen!
RISE!!!!!!!!!!!!!!!!!!!!!!!!!!!!
Here's our guide, wondering what he had done wrong in his life to deserve dealing with us XDD
And then we went to look for Manta Rays. Saw some but no picture (those bastards are fast). There was also a turtle. There's more snorkeling in Robinson Crusoe island. Sadly no picture. After that one, though, my left eye got irritated. Contact lens and seawater don't mix. So I sat the next snorkeling session out :(
But here's the very lovely view on Kanawa Island! We saw someone complain about being bitter by a fish. So here's a lesson for you: DO NOT FEED THE FISHIES. I REPEAT. DO NOT FEED THE FISHIES. Unless you want to turn snorkeling into Jaws reenactment. There's an island with very pretty corals and fishes but, yeah, bitey fishies.
From the dock when we're about to return to civilization. You can stay in small cottages there btw. No WiFi, though :P
Hotel pool because it's lovely. It's connected to the beach and, best of all, has WiFi!
Obligatory poolside picture featuring legs.
Anyway. Next day we went to Bali. I can't really remember what we did on that first day. Eating mostly, I guess. On the second day
some people
committed cultural appropriation. Me and mom tried to go somewhere but there was a ceremony because it's days away from Hindu holiday so we're stuck in traffic and decided to went home. Actual mother-daughter adventuring happened on the last day.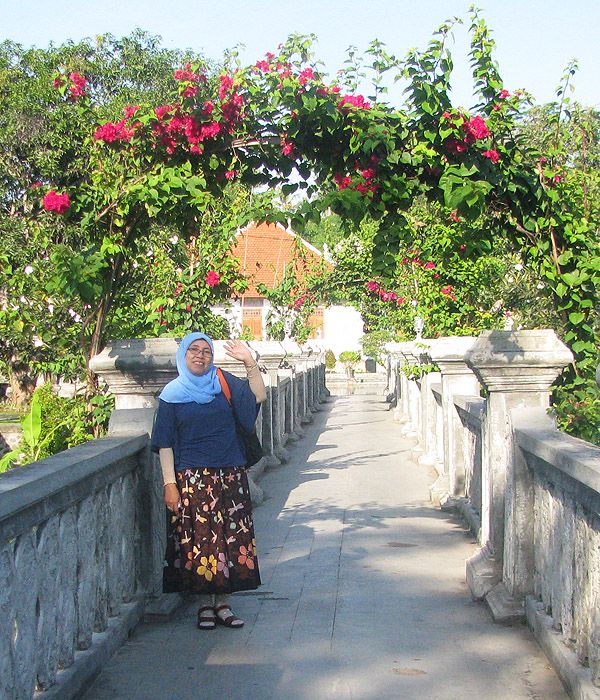 First stop: Taman Ujung Water Palace. Here's the entrance. It needs pruning but anyway.
I LOVE THIS PLACE. Seriously, I just love it. This particular building is pretty Western but still lovely. It's relatively new, built in 1901 by a king, destroyed several times by earthquake and fires but here it is now!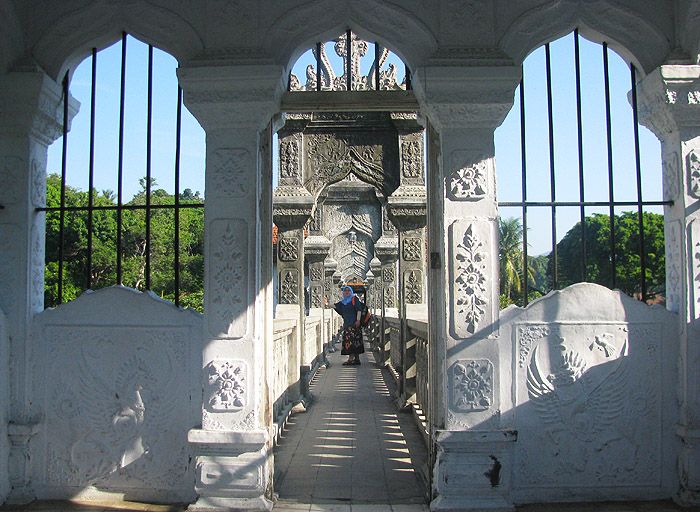 I'm pretty proud of myself for this shot. We arrived early before anyone got there so I could kneel in peace. That's my mom there.
The bridge. I think that's a dragon.
Gazebo. We'll get there in a minute.
I'm not entirely sure what the ruins are. But it's interesting.
The other bridge. There were swans on the left side if you'd squint.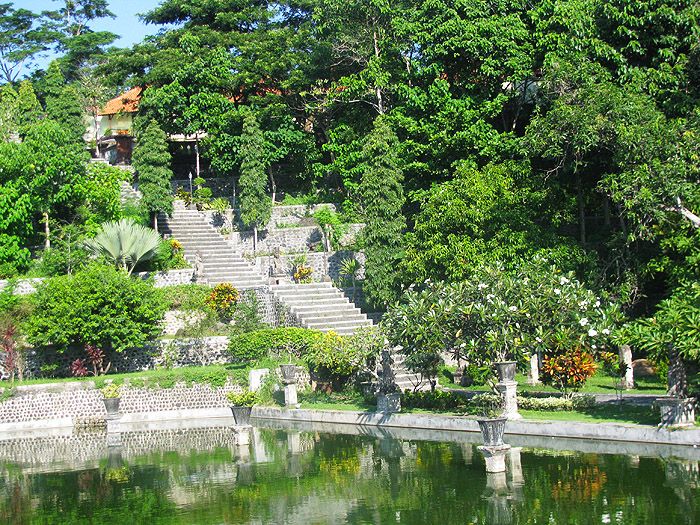 This reminds me to some illustration I can't remember. Hmmm.
View from the gazebo. We were facing the sun, so I couldn't get any good shot.
Later, this Indiana Jones investigated the ruins to find valuable artifact or kidnapped prince.
Instead, she found a garden.
Nice from from there, though. The horizon? It's the sea. We're seriously meters away from a beach. While on the other side.
Unknown mountains. There's no name in the map so I hereby name it Unknown Mountain.
Relief of Wisnu riding Garuda (Hindu version of Phoenix, basically. Just minus the fire)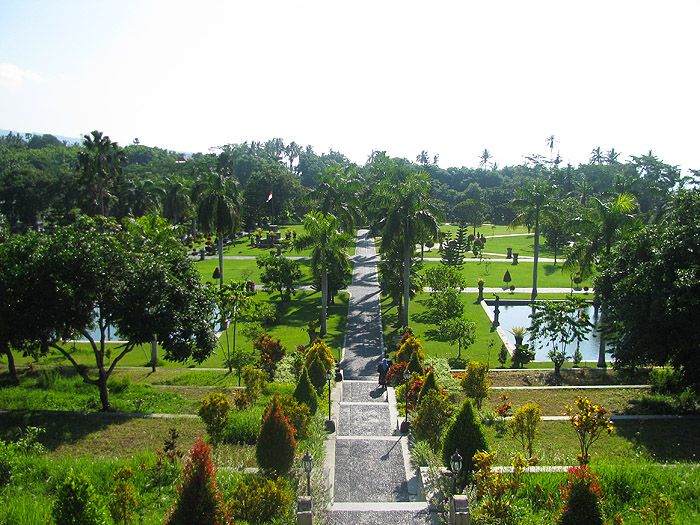 This garden was built with Middle Earth in mind. There's barely any railing!
More of this lovely building. Someone please get married there and invite me!
This is the other building. It's more simple and traditional but so damn hard to take picture of because there are so many trees around the pool!
More of the mysterious ruins.
Look at this beautiful thing! What's that, you don't think it's beautiful? Well, neither do I, but mom wants me to take a picture of it just because. So I had to slither around on my back to get a shot of it.
Candi Dasa Beach. Nothing interesting. Moving on.
Fountain in Gua Lawah Temple. Gua = Cave. Lawah/Lawa = Bat. You will see why in a moment.
Doors. Here are some close ups.
Bat statue. Not sure if it's gold. I will just assume it is XD
I love the doors!
Some structures (mini temples?)
And here's the titular cave. Why is it called Gua Lawah? Well.
BECAUSE FUCKING BATS. Holy shit, the smell of it!
Apparently we take our bat caves seriously. Batman should move here!
Getting away from the horrible smell of guano. I don't know how anyone can pray there. Anyway, this one building is pretty, though.
Our next destination was Kertha Gosa but there was a ceremony nearby so we had to go round and round to look for a way to get close to it. Here's a random statue where the ceremony was held.
I think Kertha Gosa used to be a palace. This part was a pavilion and it's got awesome paintings.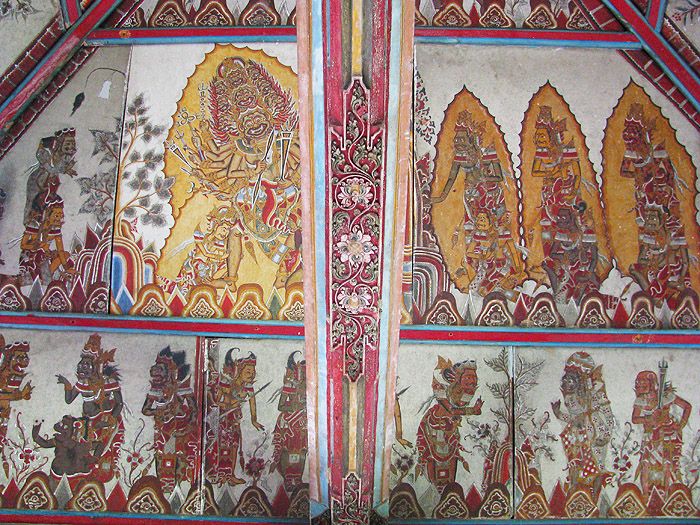 Ceiling painting in the pavilion. It's the story of Sutasoma who I really need to google. He seems very popular in Bali because I keep finding paintings of his story.
Sword swallowing? Psh. How about human swallowing?
Pictures at the bottom are Balinese calendar and above it (below Sutasoma paintings) are paintings of daily life in ancient Bali. Ok, I was tired, hot, and my neck hurt from looking at these paintings, so don't judge the out of focus pictures, ok?
The awesome thing about going here was we met two painters and had a bit of discussion about the differences between Balinese and Javanese cultures and myths. Obviously, they're very similar (even our letters are basically the same!) with slight variations, sometimes just in pronunciation. There's also apparently a ceremony which is split between Balinese whose ancestors came from Java and Balinese who actually came from Bali. These painters' ancestors were from Java. Anyway, that above is Balinese zodiac. So, I asked what mine is (same system, different names). My birthday was Setu Legi in Javanese or Setu Manis in Balinese. So what's my zodiac?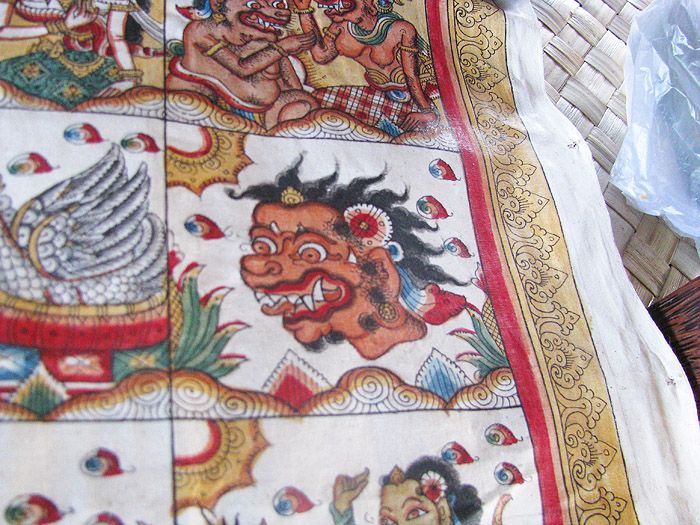 Flying demon head. Of fucking course.
The painters asked whether I get angry easily, to which my mom immediately agreed. Apparently in any version of local zodiacs, I'm a difficult person to deal with.
But anyway, the colored inks are interesting. Red ink is made of some kind of stone, blue from some sort of cactus flower which has now gone extinct so they're using Chinese product, green from some kind of plant, and white (yellow) from bones. They use a special glue to stick the ink to papers/cloths.
More ceiling painting from another building in Kertha Gosa.
We're not sure but we think it's the story of Bima, probably when he and his brothers and mom went to Dandaka Forest in their exile where he later met his wife (who he promptly abandoned once she gave birth to a son but let's not discuss it here. It's a damn long story). We're just tourists, though, so don't listen to us.
Final destination! Butterfly park! Not much to say here, so here are pics of butterflies: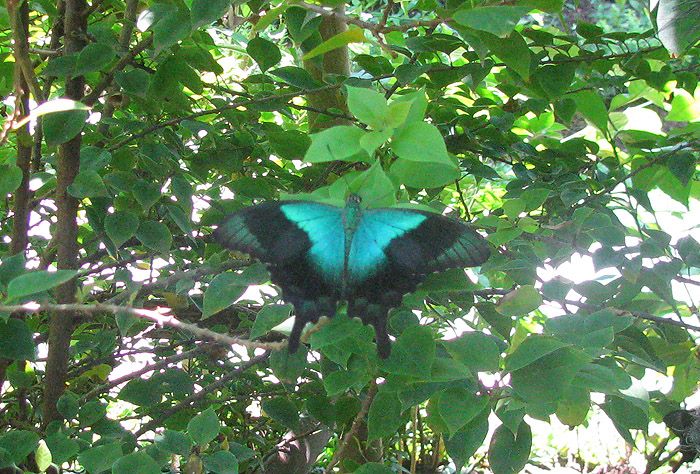 lol my mom thought the second one looked sickly. I'm pretty sure it's meant to look that way.
The only story worth telling is of this poor guy here. It took these Atlas butterflies (or Baron butterflies as they call it here) two months to turn from catterpillar into a butterfly and once they're butterflies, they only had 5 days to live because they have no mouth so they will die of starvation. There's a moral lesson there somewhere. Not having a mouth is a terrible fate?
And finally, we went to Surabaya to see the solar eclipse!
It's not actually red. I used old photo films to filter the glare. The result is pretty dramatic.
So. That's my vacation. Who's coming here next? XP
WIthout furtherado, here are pics from my vacation with
I am at:

home

I'm feeling:

bored

Current Music:

"July" Boy